Frugality Review: Superior Nut Company's Gourmet...
I like to bargain shop with my groceries, because quality roulette is a very low-risk way to stave off the bores of routine. And one thing I like to pick up at my local Grocery Outlet is some sort of snack for next to the computer, and lately that's meant trail mix. Trail mix is the frugal snack compared to bulk nuts - with expensive cashews or pistachios rare among the far cheaper raisins...
A Silicon Valley Reading of Betas
Betas has been picked up by Amazon Studios, Betas Pilot 0:00 We zoom in from Google Earth to a communal hacker space in Silicon Valley. Within 15 seconds, Nash (Karan Soni) has deemed the workspace "unacceptable" and stomps to the door. And in 15 seconds, we have our first signal to the tone of Betas. The listening to soothing music to try to drown out distractions is real to all of us. But...
I think i am in friend-love with you
noscrnam: Writer and artist Yumi Sakugawa gets all of this one.
A Normal Life
"We've done it," the scientists proclaimed. "The map of most average human genome is complete." What to call the pinnacle of normalcy? When Norm was born, there were national news broadcasts Live on the scene, with breaking developments of ordinary. While Norm grew up, he was a local celebrity His mundane home highlighted on any map. When Norm graduated, his...
1 tag
The Start-Up Prayer
God grant me the serenity to accept the problems I cannot fix with a start-up; the courage to start-up the problems I can; and wisdom to know the difference.
3 tags
Why You Should Try Social TV Apps
Ever since we all started tweeting while watching TV, thousands of media types have been trying to come up with a way to get you on their team. Some sent you stickers, some sent you gift cards, some tried to give you content around the episode you were watching (granted, some methods are more effective than others). Ultimately, I agree with my founder Somrat Niyogi who rightly pointed at switching...
2 tags
NFDHOF #2: "Things Will Never Be The Same Again"...
Almost a year ago, I introduced my disdain for overused narrative framing devices with this post on the Documentary Narrative. I find myself inspired once again, this time by the ugly duckling of this Fall season's lineup: Revolution. What is it about Revolution that has caused such resoundingly mixed feelings? I wanted to go inside and crack the case, and what I found is this year's...
3 tags
Pop Tortes: The Legend of Korra Season 1... →
poptortes: After The Legend of Korra ended its first season back in June, I asked a few of my Twitter friends and fellow Avatar/Korra fans to participate in a roundtable discussion about the first season. I knew that opinions about the finale were mixed, and I wanted to explore how different people reacted… Like Korra? Like Avatar (the animated series)? Then read this discussion on...
QUEST →
At risk of turning my personal blog into a curation of cool things made by friends of mine, you should check this comic out. To call it a "strip" would be inadequate, as it incorporates interactive elements with unconventional presentation to create an elevated storytelling experience. I love this direction and can't wait to see more graphic storytelling in this style. zargap: ...
The Letter Unread: My Secret Diary →
theletterunread: Despite having kept one for nearly four years, I'm still not sure for whom a journal is written. It can't be written for other people, for that invites self-censorship (and furthermore, at that point, really, just do some editing and show people a short story if you want attention). At the same… I do not normally reblog others, but I just had to share this incredible...
7 tags
No One Cares About Your Narrative Framing Device
In the past decade, there's been a lazy trend creeping into television. Scripted comedies are so saturated with this jarring practice, we're hardly distracted by it anymore. And yet, my dislike for the technique is overpowered by a surprising side-effect. We can easily point to the success of The Office (UK) as the instigator of the documentary narrative trend. Ricky Gervais and...
4 tags
Punk Rock is Cool, But Try Techno: An Alternate...
The following is a response to Ryan McGee's article, "Never Mind The Bollocks, Here's the Future of Television Criticism." I'm going to speak directly, on a not too broad scope, and try to sell you on a non-conventional journalism platform in which to publish reviews. My name is Andrew Seroff, I won't bury my mediocre lede either. A little biography to keep...
2 tags
The League Season 2: Does Raffi Make You Raugh? →
The title I should have given my latest review at PopMatters. Thanks for reading!
2 tags
"Bored to Death: The Complete Second Season"... →
Thanks for reading.
Mystery Science Theater 3000: 'The Unearthly' and... →
I reviewed two standalone DVD episodes in order to explain the subtleties of what makes MST3K tick. (And that weird semicolon? Wasn't there when I submitted, I promise)
4 tags
Against Persistent Identity (for the Children)
In general, I think the internet has a lot to offer. So much so, that many of its downsides go unperceived by its users. Along with its stereotypical criticisms, such as the abundance of spam, pornography, and hackers, I've already addressed an unfortunate cultural downside of the internet. Not to become the Debbie Downer of the internet, I've got another bone to pick with our Skynet overlord. I...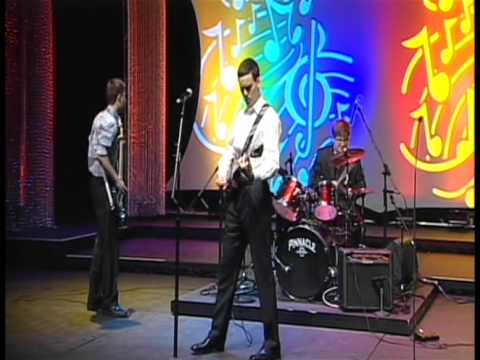 4 tags
"Adventure Time" Places Setting Over Story...and... →
Just a little post about why Adventure Time works so well. Thanks for reading.
1 tag
Photos from my trip
I just finished my last photo album from my 5 weeks in Europe. They are hosted on G+/Picasa for your viewing pleasure: 1. Baltic Hardcore (Dover, Copenhagen, Waremunde, Tallinn, St. Petersberg, Stockholm, Helsinki) 2. Space Invaders in Switzerland (Calais, Dunkirk, Paris, Geneva, Lausanne, Bern, Zermatt) 3. Spaghetti for Breakfast (Milan, Rome, Sicily, Athens, Ephesus, Venice)  It took a while...
Down, But Not Out: Eastbound & Down: The Complete... →
After a long vacation, I'm back reviewing DVDs for PopMatters. Thanks for reading.
5 tags
"Relevant Experience": The Plight of the Popular...
I've been out of school for a bunch of days - the exact number does not matter. Unsurprisingly, I've fallen into a bit of a funk. A funk you would expect someone standing at the crossroads of infinite potential directions. Even less helpful is a five week trip I leave for in several days, which is delaying any serious efforts of preparing to take my first enormous steps into my own. I...
3 tags
Studio 60 on the Sunset Strip and the Media: A...
           A television show that is effectively complex is still a rarity, despite the medium's relatively recent maturity into respectability. One of these anomalies is Studio 60 on the Sunset Strip, a serial dramedy by esteemed television auteur Aaron Sorkin. The short-lived show managed to critically address a large spectrum of serial themes throughout, the most important of which being the...
2 tags
The Church of the Flying Spaghetti Monster
While discussing the legitimacy of certain obscure religions, I offhandedly made a perhaps rash comment comparing the Jedi Church to the Church of the Flying Spaghetti Monster. In penance for possibly undercutting one of these two electronic churches, I decided to do a little research on the Pastafarians (as they call themselves), in order to determine if I was at fault over my sweeping...
3 tags
From the Archives: Opening Day
As it is Opening Day, I figured I'd hunt through the archives and find my column from two years ago. It has been removed from its original publication's website (ND/SMC Observer), so I figured I'd just copy the whole thing into here.  Funny story about this article: I wrote it on Opening Day, but the Editorial staff decided to run it a week later, and had me change the verb...
4 tags
Scott Adams on Writing for the Internet →
Last week, I noted on my twitter that there was a buzz about Scott Adams, creator of the comic strip "Dilbert," and a post on his blog that dared address the hot-button topic of gender relations. This post quickly made the gambit of virality, starting as a scandal, then turning into a flamewar, and in its final state, Adams posted this follow-up today.  While many hot-headed and...
The Venture Bros. on an Adolescent Growth Spurt →
My first PopMatters article, which happened to be published on the same day that The Venture Bros. got renewed for two more seasons. Good timing, eh?
2 tags
"Top Shot" on target with History Channel's... →
As always, thanks for reading.
1 tag
An Apology for Absence
To my few but faithful readers, I apologize for not writing so much. As you may be aware, in addition to writing pieces on a variety of cultural events and trends, I am a fencer, and it just so happens that this is my senior year season and second year season as the captain of the Fighting Irish fencing team. Though I wish the day doubled in length, a mere 24 hours is hardly enough to do...
4 tags
Religious and Ideological Mudslinging: Cable News...
When we discussed several television news clips that addressed religious topics, it was clear that the content of much of the programming, especially pundit roundtable shows like Hardball, The Glenn Beck Program, or The O'Reilly Factor, is entertainment focused on criticizing figures and politicians of the opposing political parties, as opposed to actually reporting and discussing news events....
2 tags
Matthew Perry brings his gloom back to the small... →
I preview Mr. Sunshine, because it looks good.
"Music, I feel, must be emotional first and intellectual second."
– Maurice Ravel (via fyeahrealartists)
"Never vague, always ambiguous."
– Claude Debussy (via opusoddity)
"Fox Returns to Middle America with Bob's Burgers" →
Thanks for reading!
Now writing TV articles for The Examiner. →
The role of this blog isn't changing, but all my television-related articles will be on The Examiner's website. I'll always post a link to the article here on my Tumblr, though.
6 tags
In Defense of Hipsters (Like They Even Care)
A while back, there was a fad going around the internet to make "geek charts," which attempted to categorize all the different sets and subsets of geek culture in a single graph. After one particularly sleek, silly, and egregiously incorrect flowchart went viral, I vowed to create my own graph, one that is both attractive and reflects my comprehensive knowledge of the subject. I had...
5 tags
Some Movie Reviews
I know I'm late to the game on these. I'm way behind on my movies (still haven't even seen Toy Story 3, that's how bad it is), although maybe I'll go see True Grit tonight.  Exit Through the Gift Shop What I found most impressive about this film is its universal intrigue. I was in a room with my family, with various levels of interest ranging from "opposed and...
7 tags
The "Cool" Geek: The Interdependence of the...
The relationship between subculture and the mainstream has always been one of codependence, especially in the realms of film and music. For every British Invasion, there was a Jimi Hendrix, and for every Rat Pack, there was the French New Wave. Most recently, a new cool has surfaced from American subculture: the geek. With the rise of lifestyle-defining technology such as the internet, and the...
3 tags
The First Show to Steal My Heart: A Narrative...
Studio 60 on the Sunset Strip was a primetime episodic-serial dramedy created by Aaron Sorkin (The West Wing, Sports Radio) that aired on NBC over the 2006-2007 television season. Much like his other television shows, the narrative style of Sorkin, who, along with creating and producing the show, received writing credit on all twenty-two of the show's episodes, is deeply imprinted in Studio 60. It...
Final Paper
Me: So how's the television narratives paper coming?
Ellie: Why are you such a downer?
Me: Just curious
Worked on mine all break.
Can't imagine this is helping shake my role as a downer
Ellie: STOP SAYING SHIT LIKE THAT. Seriously. You are making me feel inadequate
Me: Yeah, I definitely didn't send Professor Becker a draft to review, which saved the whole thesis.
Ellie: And my nun just chastised me for not greeting her when i came in, because i was with Britt
I'm debating telling her that we're in a lesbian relationship just to get her off my back
But yeah
Becker
Thesis
Bringing up words like that
Why?
me: lol
Alright I'll stop
...and I'd definitely go with the lesbian thing.
That could be a multi-episode arc right there.
4 tags
My Beautiful Dark Twisted Fantasy is a world...
It all started when I tweeted: Aseroff: Kanye's new Bon Iver track isn't sampling. It isn't homage. It's plain plagiarism. after listening to "Lost in the World," the final track of Kayne West's latest album, which is essentially 5% rap and 95% "Woods" by Bon Iver. Among reasonable responses, such as this one from my dear friend and fellow...
3 tags
To avoid stagnation - T.V. Narrative Response...
            Survivor, the show that started the entire reality show craze in the United States, uses a certain equation to create unscripted drama. Along with the structure and the events that the reality game show contestants are subjected to, the producers have a very important system to create entertainment and drama: casting. By finding "real" people to fulfill the dramatic roles of hero,...